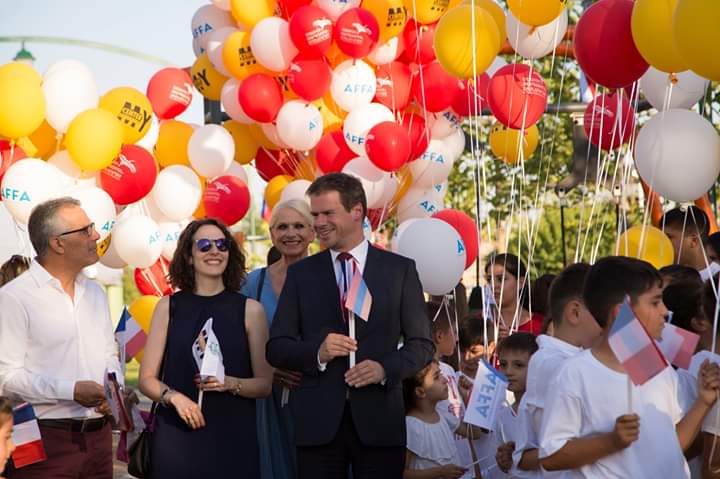 AFFA (ADIBEKYAN FAMILY FOUNDATION FOR ADVANCEMENT)has organized a le 14 juillet celebration at Boulevard de la Francophonie in Masis, in a friendly and cordial atmosphere.
Representatives of the FRENCH EMBASSY IN ARMENIA AND MUSICIANS OF THE NATIONAL GENDARMERIE OF FRANCE, as well as MASIS administration officials, attended the celebration.
A variety of activities were organized at Boulevard de la Francophonie, such as:
A photo exhibition dedicated to the symbols of France – liberty, equality and fraternity;
A pottery and painting workshop under the French signs;
A wooden handicrafts;
Volleyball and basketball,petanque games.
Attheendofthesecultural, educational, sportsandartactivities, aphotocontestwasorganized, andthewinnerwasawardedaprize.
Following the French traditions, the young people of Masis marched down the Boulevard de la Francophonie carrying the flags of France and Armenia, to celebrate French-Armenian friendship.
Next, to everyone's joy, an open-air concert started, attended by many officials from the Francophonie Organization, the city of Masis and Ararat region.
With the support of French Embassy in Armenia, AFFA invited performers from the National Gendarmerie of France.
The performances of Bach's Cantata 142, Handel's Messiah, Maurice Ravel's String Quartet in F major, Mozart's The Marriage of Figaro and Mendelssohn's Elijah elicited unforgettable emotions in the hearts of Masis residents. Following these, baritone Jeremy Delver took the audience on a breathtaking musical journey with his performance of works by Charles Aznavour, Leo Ferre, and Edith Piaf. The majestic musical show culminated with a performance of the Armenian Waltz.
Beautiful tunes filled with joy and freedom rolled through every corner of Masis.
And of course the French national holiday of le 14 juillet would not be complete without a hot air balloon built specifically for the occasion, and some holiday fireworks! The sight of holiday fireworks, inseparable from le 14 juillet celebrations dedicated to the National Day of France in Masis, became a long-awaited gift to the entire city.
LONGLIVEAFFA! LONGLIVEFRANCE! LONG LIVE FRANCOPHONIE!