The AFFA Foundation (Adibekyan Family Foundation for Advancement) honored the Tour de France in Armenia for the third consecutive year. As such, the fund The Masis Development Fund organized the TOUR de MASIS on 28 July 2019, the arrival day of the TOUR de FRANCE in Paris.
In July 1903, the first Tour de France dedicated the success of an invention of barely two decades, the bicycle, affectionately nicknamed "Little Queen".
This challenge will go through the events of the 20th century by constantly renewing itself. It remains the most popular cycling event in the world today. The Tour de France has become the legendary cycling event.
The Tour de Masis started at Place de la République in Yerevan and continued towards Masis-Boulevard de la Francophonie for a 16-kilometre route.
Tigran Avinyan, Deputy Prime Minister RA, Arsene Torossyan, Minister of Health, Eric Grigoryan, Minister of Ecology, Garik Sargsyan, Governor of Ararat, AIK Marutyan, Mayor of Yerevan, Gevorg Loretsyan, Deputy Minister for Sport, Ruben Artavazd Nazaretyan, Deputy Governor of Ararat, the French Embassy with Ambassador Jonathan Lacôte and Alex Bortolan as well as teachers, doctors, volunteers and athletes participated in this francophone sports event.
The day continued with VARDAVAR, a traditional festival in Armenia where people of all ages sprinkle water on each other.
At the end of this cycling race, the winner has won a bicycle and all the participants gathered for a friendly moment around a buffet while waiting for the live arrival of the Tour de France on the Champs Elysées in Paris.
The Masis Development Fund not only seals the French-Armenian friendship but also promotes the Francophonie in the field of sport, cycling in particular. The Tour de Masis is an emblematic vehicle for building multicultural and multi-societal links.
MASIS-PILOT CENTRE OF FRANCOPHONIE IN ARMENIA!
This year again, the Tour de Masis was a splendid success.
See you next year for another stage of the Tour de MASIS with AFFA!
TOUR de MASIS, full version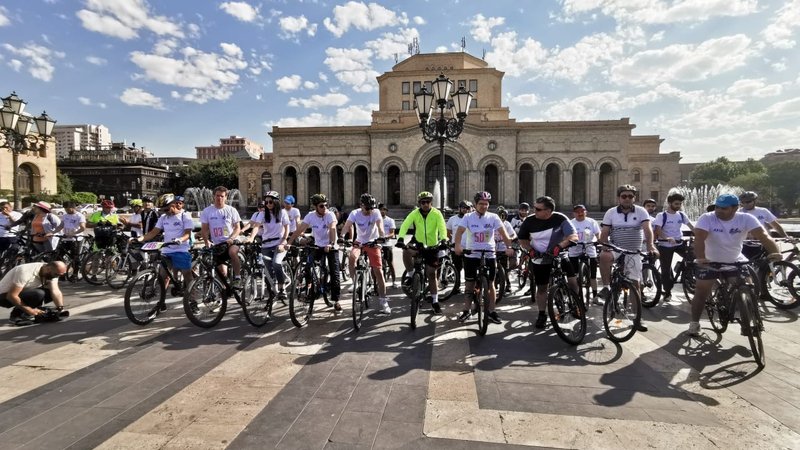 TOUR de MASIS, video report